A full-on painting week, but with time to relax. Enjoy the company of like minded people, expand your knowledge of techniques and colour. I have experienced teaching at several week long painting holidays in different parts of the world since the early '90's and I think this beats them all. Contact Liz now
greekislandpaintingtrips@hotmail.com




KALYMNOS, GREECE 2021
Join me at this relaxing inspiring place - September 7 - 14, 2021.
I had a wonderful week in May 2019 and I was due to teach again this year - but you know what happened? So we are now taking bookings for September 2021. Do check out the website - you will be amazed.
The journey to Kalymnos is a wonderful transition from our busy lives to a peaceful, warm, friendly, clean and inspiring place. There are many ways of getting to Kalymnos but suggest you arrange travel on the 7th so you are ready to boogy on the 9th - Easyjet flies from Gatwick
Flying into KOS international airport (or fly to Athens & catch an internal Greek flight to Kalymnos itself)
After arriving in Kos take a 10 minute taxi ride €15 (share a cab) to the port of MASTAHARI, where you catch the ferry (€7 tickets available from the office when the ferry is in ). You can see Kalymnos over the water. You will be greeted at the "Patheos" port by our British hosts Liz and John (who have lived on the island for 14 years)who will drive you to the hotel in MYRTIES on the west side of the island. (We can arrange to meet you at the airport for a small extra fee).
On Wednesday morning we gather just
after
breakfast for a short talk about how the days will be spent.There is so much to inspire at this off-the-track of the traditional holiday destination.......from traditional Greek fishing boats, quiet beaches and blue seascapes to traditional architecture Greek white and blue houses as well as some ruins and rocky mountains and a few goats & lots of cats!. We visit locations which offer a variety of inspiring vistas and enjoy a
"
breath-taking" ride on the way. We will sample the delicious local food and meet lots of interesting people. Your comfortable accommodation is close to the sea and swimming pool. All rooms are ensuite and with coffee/tea making equipment and a fridge (to keep the g & t cold), air conditioning and a balcony. And the owner/management are very helpful and obliging. Our price includes breakfast with a selection of delightful continental foods.
On your first evening you will be taken to a local restaurant to sample a variety of exotic dishes and on the last evening before your departure a dining experience like no other with a chance to dance the traditional Greek "Zorba" .
Most of our painting sessions will be outdoors and there is space at the hotel for you to continue painting. I usually like to start the day with a demonstration/talk about different techniques and advice about the place we are going to spend the day. I will be on hand throughout each day for individual advice. Evenings are yours to do as you wish, but may include a discussion or demonstration., a walk to Masouri to shop. We will spend at least one day on the Island of Telendos just a 15 minute boat ride away - an interesting experience as there are no roads - so no cars!
I will be bringing watercolours and acrylic painting mediums plus sketching materials and will provide a full recommended list once you have booked Easels and boards are provided. I will encourage you to make sketches and take notes before settling into a painting. And - to take photos so that you go home full of inspiration.
Join us for
a week on this island paradise - there is nothing so good as having all the time to just paint and enjoy the company of like-minded people.....well maybe a bit of swimming, good cuisine and wine and the greek hospitality and history.
---


Price £999.00

Price includes:- accommodation with ensuite, 7 breakfasts, 2 evening meals, 5-days tuition, transfers from or Kalymnos port (Patheos) to your accommodation in Myrties, and transport to all daily visits to places of interest :

Accompanying non-painting partners £700.00

Discount for painters sharing twin bedded rooms.

All rooms have tea/coffee making facilities and fridges, air-conditioning and balconies.




NOT Included: - Flight and transfer to Kalymnos

We recommend the Easyjet flight from Gatwick to KOS on Tuesday 8th September leaving at 3.15pm- arrives 9.30pm in time for the last ferry at 11.30)

or British Airways to Kos (leaves earlier and arrives in Kos about 4pm)

Full instructions on the onward journey to Kalymnos will be given on booking.









---

20/06/2019 Samples of the work produced on the last trip.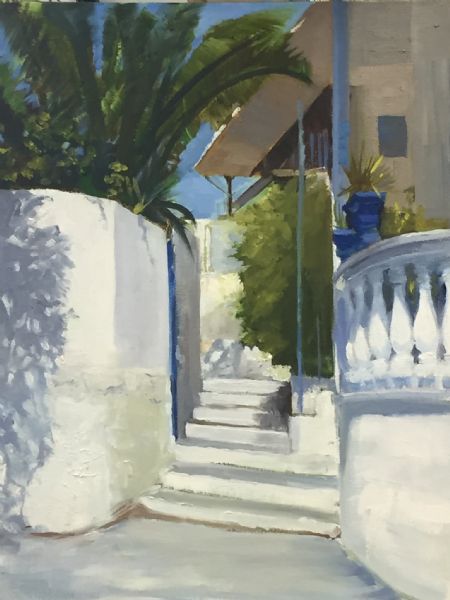 1
This is a sketch from which I worked to produce this oil on board - (SOLD)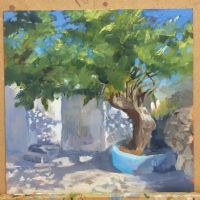 3. First day in Nefeli Hotel 4. On Telendos, back walkway. SOLD
The groupies: including hosts Liz (3rd from left) and John (4th). We are at St. Savias Monestry HIGH above the port of Pothias.
---
Some Comments received.....
You find them here, in the cafe, you find them there on the beach, you find artists everywhere!.....Podi
"Thank you very much for all you did to make the holiday such a happy one. My daughter and I feel we learnt a lot.....thank you very much for all you did to make the holiday such a happy one." ......Gerry, Bucks.
Simply Degas, refreshing post-impressionism Podi Lawrence captures the exquisite in lush landscapes, in the story-telling of her portraiture, and in jazz-infused snapshots of life caught on canvas. her versatility in all mediums, a rarity; her spontaneity & passion with paint, a treasure. (Exh judge)

"Our painting holiday in France seems a long time ago, I certainly had a good time and learned quite a bit.....and appreciated the hard work from yourself....." Wendy, Eltham
"I certainly enjoyed France very much indeed, and I gained a lot from your teaching for which I am very grateful...." Walter, Bromley